From cancer killing berries to fruits with record levels of vitamins, Australia is home to some of the worlds most powerful super foods. These foods have been part of the diet and used in traditional medicine by Aboriginal people for thousands of years.
Having a healthy diet is one of the most revolutionary things we can do as Indigenous people. We can't call ourselves survivors anymore if most of us are dying by the age of 50. We know our culture gives us mental strength but we need to be reminded that our diet is what gives us our long term physical strength. Let's take a look at 6 super foods in our second healthy living article.
Lemon Myrtle – This tree is found naturally across Queensland from Brisbane to Mackay however it is also commonly grown in northern NSW. Aboriginal people have used the leaves for thousands of years both in food and for traditional medicine. Did you know that Lemon Myrtle has the highest citral purity of any plant? Lemon Myrtle even beats the more well known lemon grass for its flavour and purity.
Quandongs – There are numerous types of Quandong trees across Australia. Their colours range from red to blue. The most famous species is the red 'Desert Quandong' which is also known as the 'wild peach' or 'desert peach'. The fruit was even used as a substitute for meat when other sources of meat were low on supply. Quandong's also posses around double the amount of vitamin C that you can find in a regular orange.
Kakadu Plum – The Kakadu plum is another heavy hitter. It's main claim to fame is that it holds the highest percentage of vitamin c of any fruit in the world. It's also been picked up by high end hair care and cosmetic companies who infuse the plum with their products. Shout out to Kevin Murphy hair, if your're reading this, we would love to test out your Kakadu plum range.
Desert Limes – Desert limes are like most limes, full of powerful flavour and can be used in a huge range of ways, from tea, to cordials, marmalades etc. What is special about the desert lime is that the plant itself is almost indestructible and may eventually be used to keep the lime species alive by crossing it with other lime species from around the world that are not as hardy. The desert lime can withstand drought, frost, fire and even salinity.
Boab Leaves – Traditionally, the boab nut has been eaten by Aboriginal people across northern Australia. It has recently been discovered that the leaves contain a huge amount of iron and this is currently being investigated to see whether or not the leaves can help treat people with anemia. 100 grams of the leaves contain around 8 times the amount you would find in 100 grams of steak.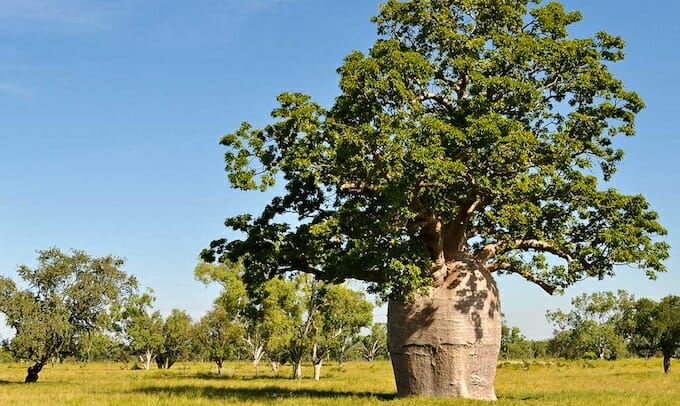 Blushwood berry – This species has been making headlines recently with exciting studies that show that an extract from the inner seed of the fruit has the ability to kill cancer in a matter of minutes with cancers completely disappearing after around 24 hours. Scientists have called this extract EBC-46. Before you rush out to try and order the fruit, please note that the berry also contains toxins and there is a real risk of poisoning for people who try to create their own backyard cancer cure. The fruit only occurs naturally around the Atherton Tablelands/Daintree rain-forest areas and has been known to Aboriginal people of these areas for thousands of years.
Aboriginal Super-Fruit holds the key to eliminating cancer!

由 Welcome to Country 发布于 2017年5月12日
Welcome to Country is an independent news/media website. If you would like to have your own article published in your name or anonymously, you can contact us via our Facebook page or our contact page. Having your very own published article can help you get noticed as a writer for larger online publishers such as the ABC, The Guardian & SBS. To help support our website, make a donation here.