Earlier this year, Kmart reached out to the small Aboriginal owned company, Aboriginal Steel Art to commission the installation of Acknowledgement of Traditional Owner plaques across their 200+ stores throughout Australia.
With this work on top of the many other commissioned art pieces, Wayne "Liwingu" McGinness, has now completed the first of the 200+ plaques. The plaques are now starting to appear around Australia. Wayne said it was an honour for him, that one of the first stores to install the plaques, was very close to where he lived when he first dreamed up the concept of Aboriginal Steel Art in Humpty Doo.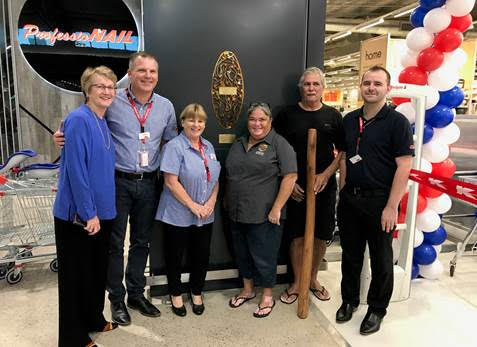 Wayne says the design had to be something that all Aboriginal nations could relate and connect to; and this played an important role in the final design of the plaques. The overall shape is that of a shield, which represents protection (protection to land, culture, languages and people). The design on the shield itself represents the waterways that connect us all while the hands represent our families and bloodline connections to our ancestors.
Have you seen any of these plaques around yet? Let us know in the comments below.
Be sure to follow Aboriginal Steel Art on Facebook and if you're interested to purchase your own unique design, check out Wayne & Lucy's website and online store.